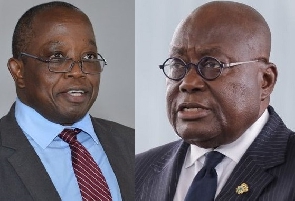 Former Auditor General, Daniel Yao Domelevo, has said that he is not surprised about the level of corruption and infractions that are recorded in audit reports on the government finances.
Speaking in a Joy News interview monitored by GhanaWeb on Thursday, January 26, 2023, Domelevo posited that the level of corruption and infractions are so high because the government, which is supposed to be preventing them breaches the financial laws of the country more than any entity.

"I get sad, especially when you borrow money from people saying, that I don't have money to take care of a pandemic and then you use the money to pay SSNIT, you use some to pay NABCO, etc. Are those all part of the pandemic?

"So, you see the government itself is at the forefront of misbehaviour or breaching laws or not respecting the financial roles.

"So are you surprised that we have this level of embezzlement and infractions in the Auditor General's report when even the Ministry of Finance and the government which should be at the forefront and ensuring that the finance rules are complied with are misbehaving? What will others do?" he questioned.

He also said that the government does not take audit reports on its finances earnestly, which is why finance infractions by government agencies continue.
The former Auditor General made these remarks while reacting to an audit report on Ghana's COVID-19 expenditure which showed that nearly 50 per cent of the money the state mobilised to mitigate the impact of the COVID-19 pandemic in the country was used for budget support and not issues related to the outbreak.

The report, which was prepared by the Auditor General Department, indicated that the government raised nearly GH¢22 billion, as of June 2022, to fight COVID-19 in Ghana through the Contingency Fund, the World Bank Group, the International Monetary Fund (IMF), the African Development Bank (AfDB) and the European Union (EU).

However, out of the total amount raised to fight COVID-19, only about GH¢12 billion (a little over 50 percent of the total funds raised) was used for activities geared toward fighting the spread of the virus and its impact in Ghana.



IB/BOG