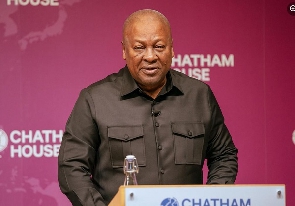 Former President John Dramani Mahama has expressed his disappointment at the decision of some National Democratic Congress (NDC) Members of Parliament (MPs) to break ranks with the party on the approval of some appointees of the government.
In a post shared on Facebook, on Saturday, March 25, 2023, Mahama described the action taken by the NDC MPs, who voted to approve ministerial and judicial appointees of President Nana Addo Dankwa Akufo-Addo, as a betrayal.

"A couple of weeks ago, our NDC group in Parliament announced a principled position not to approve any new ministers until the President has taken steps to significantly reduce the size of his government.

"This position was supported by a broad section of Ghanaians and public advocacy groups. Unfortunately, Ghanaians were sorely disappointed yesterday when several members of the Minority for some parochial and personal interest voted against the principled position adopted by the party.

"I am also disappointed. Those responsible for this betrayal must do some serious soul searching and learn to place national interest over personal interest," parts of Mahama's post read.

Mahama added that the NDC MPs who voted for the approval are not in tune with the hardship in the country and the demand by several Ghanaians for the president to reduce the size of this government.
"Clearly, in this time of crisis and excruciating hardships, President Akufo-Addo, his NPP administration and some of our MPs are out of tune with the mood of the Ghanaian people," he said.

Parliament approves all six nominees, two Supreme Court Justices:

Parliament on Friday, March 24 approved all six ministerial nominees as well as the nominees of the supreme court of President Akufo-Addo after a heated debate, 24 hours prior and a tense voting process.

Final results declared by Speaker Alban Bagbin showed that all nominees got more votes than the minimum of 138 votes required because out of the 275 eligible voters, there were three absent.

Kobina Tahiru Hammond (MP for Adansi Asokwa) was approved as the Minister of Trade and Industry and Bryan Acheampong (MP for Abetifi) as the Minister of Food and Agriculture.
Other nominees who were approved include Stephen Asamoah Boateng, as Ministry of Chieftaincy; Mohammed Amin Adam, Minister of State (Ministry of Finance), and Osei Bonsu Amoah, Ministry of Local Government.

Stephen Amoah, the Member of Parliament for Nhyiaeso, was also approved as the Deputy Minister of Trade and Industry.

The Supreme Court nominees who were approved include George Kingsley Koomson, Justice of the Court of Appeal, and Justice Ernest Yao Gaewu, Justice of the High Court.

Read Mahama's full post below:


Meanwhile, catch up on the concluding part of Francis Addai-Nimoh's interview on GhanaWeb TV below:



IB/FNOQ