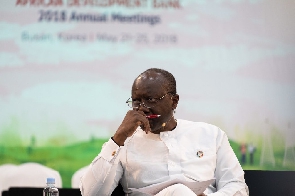 Databank, a company partly owned by the Minister of Finance, Ken Ofori-Atta has reportedly bagged GH¢159million from government for its Transaction Advisory services on government bond issuance since 2017.
The claim is being made by the Member of Parliament for South Dayi, Rockson-Nelson Dafeamekpor who said his calculations were based on a document supplied to the committee that probed the Vote of a Censure motion against Ken Ofori-Atta last month.

In a tabular representation of the figures, Dafeamekpor alleged that government paid GH¢85 million to Databank in 2021. The lowest figure was in 2019 when GH¢11.83million was paid to Databank.

The document, posted on social media, was captioned: "This is how much Ken Ofori Atta and his company have made from the borrowings he's made so far for this Govt....very staggering amount of money in fees. How much taxes has he paid on these huge fees earned from the borrowings?"

One of the grounds for the censure motion against Ken Ofori-Atta was claim of conflict of interest over the involvement of Databank in Government of Ghana's Capital Market transactions.

His counsel at the time, Gabby Asare Otchere-Darko defended that the Commission of Human Rights and Administrative Justice (CHRAJ) and not Parliament was clothed with the power to investigate issues of conflict of interest.
After rounds of legal banter between Gabby Asare Otchere-Darko and Dr. Dominic Ayine who was the co-chair of the committee, conflict of interest was struck out as one of the grounds for the investigations.

One of Ofori-Atta's deputies, John Ampontuah Kumah asked critics of the Finance Minister to seek interpretation at the Supreme Court over the matter.

"Those who are so pained by the current situation should go to court, the Supreme Court or the High Court. So that we can all be guided because, as far as I am concerned, these two public officers have acted within the law. Even at their vetting, they've disclosed this; every information has been put out there. All of a sudden, it is turning out to be another unheard-of situation," he said.