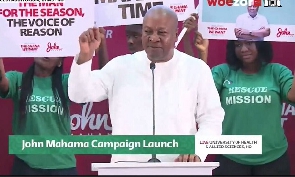 The flagbearer hopeful of the National Democratic Congress, John Dramani Mahama, has indicated that the current economic situation does not need a leader who is not abreast with running the country's affairs.
According to John Mahama, he does not feel vindicated over the current state of hardships even though before he left office in 2016, he said, "posterity will judge us all".

Declaring his intent to run for the presidential primaries in the 2024 election, the former president noted that his decision was due to the depth of the country's current economic hardships.

He said: "I'm not the kind of leader that derives pleasure or smiles at my country's failings, even the failings of my country, even the failings of my political opponents. As far as I'm concerned, there is no vindication to be derived from the suffering of the Ghanaian people. I'm offering myself for public office at this time because I appreciate the enormity of the task ahead owing to the level of damage this government has done to our country. And I also know that such a mountainous task requires a steady, unifying, and experienced hand to build the "Ghana We Want together".
"And as I said, this is no time for experimentation. Ghana at this point does not need a try-me-too leader," he added.

John Mahama is vying for the flagbearer of the NDC to run for Presidency in 2024.

SSD/FNOQ