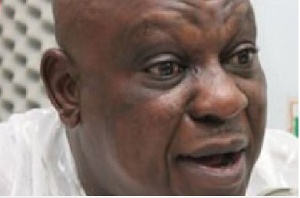 Family sources have confided in mynewsgh.com that veteran Journalist and Managing Editor of the Al-Hajj Newspaper died of stroke.
He is said to have collapsed at his bathroom prior to the Christmas festivities and was rushed to the Korle Bu Teaching Hospital where he was on admission receiving treatment before his sudden demise on Friday December 5, 2018

"There were plans underway to fly him to South Africa when his situation was not getting better but before we completed arrangements, we were told he died on Friday afternoon", a source disclosed to mynewsgh.com.

According to our source that spoke on grounds of strict anonymity, the former broadcast journalist after the domestic accident had difficulty walking and talking and was confined to his hospital bed.

Health authorities are however yet to conduct a postmortem to determine the actual cause of death.

Meanwhile, his mortal remains will be laid to rest at the Nima Cemetery in Accra according to the bereaved family.
His burial will be preceded by Janaiza prayers will be observed at his family house at Nima, Gorillas; adjacent UNIBANK in accordance with the Islamic faith

His family confirmed he died at 3pm on Friday January 5, 2018 at the Korle Bu Teaching Hospital in Accra calling for prayers for his peaceful repose

The former host of Alhaji and Alhaji on Accra-based Radio Gold is a regular Tuesday panelist on Adom TV representing the opposition National Democratic Congress (NDC) on one side and maverick New Patriotic Party (NPP) firebrand, Kennedy Agyapong on the other side

Sources indicate he has been indisposed for some time now.

His death which is another big blow to the inky fraternity less than two months after the death Kwadwo Asare Baffour Acheampong (KABA) former late afternoon political show host of Asempa FM who was buried on December 16, 207.