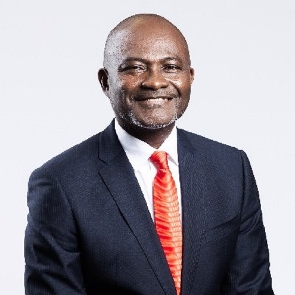 Member of Parliament Kennedy Agyapong has cautioned his colleague, Member of Parliament for Bantama, Asenso Boakye, against making any further statements about him.
Kennedy Agyapong emphasized that this should be the last time Asenso Boakye comments on him, expressing his frustration about recent remarks made by his fellow parliamentarian.

"Did I mention your name, Asenso? Then he said it. Why hasn't he owned up? Isn't he a man? I am advising Asenso; this should be his last statement. If he tries making another statement again, I will (sic). He should stay away, if not from Adenta to where he stays now, I will give a chronology. I didn't mention his name, but if he thinks he has benefited from the party for the past 8 years and so he will defend certain things, then," Kennedy Agyapong stated during an interview on Kessben TV on Monday, September 18.

Kennedy Agyapong expressed his displeasure further, remarking, "The man does not have common sense, so is this a minister. I do not want to attack anyone with their politics, but if they try, I can attack them one by one because if you are not clean, don't come and attack Kenndey Agyapong. I did not mention Asenso's name only for him to come out and say he assumes I was referring to him," he added.

This warning from Kennedy Agyapong comes in the wake of comments made by Asenso Boakye following earlier statements made by the former.

Earlier, Kennedy Agyapong had stated during a 'Showdown health walk that, "one minister in Bantama has told Delegates to vote for His Excellency, Vice President Dr. Mahamudu Bawumia, to be elected presidential candidate of the Party so as to become more attractive to Ghanaians after 4 years of H.E John Mahama's imminent Presidency."
In response to these claims, Asenso Boakye labelled them as "This blatant lie is not only ludicrous but also politically puerile. The NPP Government is deeply committed to working hard to improve the well-being of Ghanaians and by so doing, earn their continued goodwill."

Click here to start the nomination process for the 2023 GhanaWeb Excellence Awards

Ghana's leading digital news platform, GhanaWeb, in conjunction with the Korle-Bu Teaching Hospital, is embarking on an aggressive campaign which is geared towards ensuring that parliament passes comprehensive legislation to guide organ harvesting, organ donation, and organ transplantation in the country.

NAY/WA