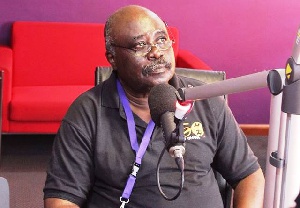 Former Chief Executive Officer (CEO) of the Volta River Authority (VRA), Dr Charles Wereko-Brobbey alias Tarzan has lamented that by the time the ambulances are put to real use after the commissioning and re-commissioning, thousands would have lost their lives.
"By the time the ambulances are commissioned at unit committees, thousands will have died needlessly," he wrote on social media following the decision by some Regional Ministers to also re-commission them and distribute to the respective constituencies after last Tuesday's exercise in Accra

President Nana Addo Dankwa Akufo-Addo commissioned some 307 ambulances at the Black Stars Square last Tuesday for distribution to all two hundred and seventy-five (275) constituencies across the country.

But reports abound of some recommissioning taking place at the regional level before distribution to the constituencies.

Volta Regional Minister Archibald Letsa lashed out at critics of the regional re-commissioning of the ambulances, accusing them of witchcraft.

"There's nothing wrong with the ambulances coming to the Coordinating Council for us to receive them and hand them over to be taken care of by the constituencies. Any person who criticizes this has a problem; we need to take him to synagogue for deliverance. I think that when something good happens in our country we should be happy. If good things happen and we are not happy that is equivalent to witchcraft."


Dr. Letsa added: "After the President Commissioned the ambulances, he went to the Ho West Ambulance and inspected it. Soon after that news went around that the Ho West ambulance was missing, I don't know whether it was spiritually missing of physically missing. But yesterday when the ambulances arrived in town, I went around town and I had calls. When people are wishing government well, they don't want the people to know that the ambulances have arrived. I want to put on record that Ghana is a unitary state, we have the national, regional and district assembly levels."

But many are of the opinion that the commission and re-commissioning are a waste of time and resources while arguing that commissioning ambulances is unheard of in the first place.