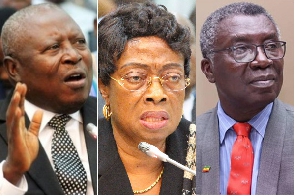 President Nana Addo Dankwa Akufo-Addo is in his seventh year as Ghana's president, and with that have come several tales and stories about the things that have happened under his watch.
Among that tall list are the people who once worked for him in his government but who, for some reason, feel disappointed in the way things are being run now.

These personalities have been in the news several times, calling out the government or their policies and even naming the president in instances of corruption-related matters.

In this GhanaWeb article, we zero in on the conversation three of these 'big' names and a few instances where they have openly lashed out at the government, either by way of their policies or in disagreement with a certain style of governance.

We begin with the most recent one:

Dr. Kwabena Frimpong-Boateng:

Dr. Kwabena Frimpong-Boateng is a former Minister of Environment, Science, Technology and Innovation and has been in the news in recent weeks over the leakage of portions of a report he spearheaded.

As minister, the celebrated cardiothoracic surgeon was appointed to lead an Inter-Ministerial Committee on Illegal Mining (IMCIM) in Ghana, based on the government's pursuit of dealing with the repeated menace of galamsey in the country.

The work of the IMCIM, which begun in 2017, was completed in 2020, but the report only came into the public domain in early 2023.

Portions of the report revealed very damning activities, including the involvement of certain staffers at the seat of government, the Jubilee House. The report named a number of these people as having been, one way or another, directly involved in the illegal mining business in parts of the country.
Also, following the release of the report, the Office of the Special Prosecutor initiated processes to investigate the issues of corruption contained in it.

As a result, Dr. Kwabena Frimpong-Boateng was invited to the OSP, arrested, and then granted bail, a situation that has led to a series of interviews by the former minister detailing what transpired and how he felt about everything.

In one of the interviews, the former minister said that there is one thing he is sure of, which is that he knows who he will not vote for in the 2024 general elections.

"I known who I would not vote… I want a government that will serve this nation and unite this nation.

"Whether they will break the eight or they can't break it, that is not important to the nation. We want a nation that is on the path of true righteousness and a nation that is on the path to true sustainable development," he said when asked whether Ghanaians should help the NPP win power for a third successive term—break the eight.

Sophia Akuffo:

The former Chief Justice of Ghana, Sophia Akuffo, pulled a big surprise on everyone when she showed up during a picketing by some pensioner bondholders at the Ministry of Finance in Accra to support them.

Having been appointed by President Nana Addo Dankwa Akufo-Addo as CJ in 2017 until she retired in 2019, the hitherto 'apolitical' former justice made a bold statement during that picketing, calling out the government for their insensitivity.

The pensioner bondholders were picketing in protest of the government's decision to include their monies in a Domestic Debt Exchange Program (DDEP).
When Sophia Akuffo showed up at the picket, she told the media that the time to remain silent and feel gagged had come to an end.

"There are quite a number of people here today who retired last year, last two years. When they retired, they put everything into government bonds, and now all of a sudden, you virtually want to, at gunpoint, force them to agree with you that the repayment of their investment or yields of their investments should be as you dictate. Why?

"Why are we in the mess we are in? Nobody has fully explained it to us, yes debts, we took debts; what was it used for? Where is the accountability? You are not telling us about how you are going to make things better but just 'help me and I'll help you' No, you help yourself first.

"Let me see you doing something serious because we've seen these sorts of things for a very long time. I'm over 70 now, and I'm no longer a government employee. My mouth has been ungagged, and I'm talking and I'm saying what I feel, and it is important that the elderly in this nation," she explained.

She has since been on a number of media channels, expressing her disagreement with a number of policies of the government, particularly the DDEP, while adding that she may not be affected by the program, but she would not sit unconcerned when people who are supposed to be retired are being 'cheated.'

Martin Amidu:

Martin Amidu made history as Ghana's first occupant of the Office of the Special Prosecutor, with many Ghanaians excited about his choice by President Nana Akufo-Addo.

However, after a few years in the office, Martin Amidu resigned, leaving in his tracks several accusations of intimidation and interference in his work by the president.

The anti-corruption crusader also accused the government of a number of things, including the non-support for his office and his work, plus a number of cases where it seemed his work was being suppressed.
Since his resignation, Martin Amidu has become one of the people who constantly calls out the government and their work through his written epistles.

In many of those epistles, he has addressed several issues of corruption, calling out the Akufo-Addo government for their decisions.

Also, watch the latest episode of GhanaWeb Election Desk on GhanaWeb TV below:





Meanwhile, watch the first episode of Everyday People on GhanaWeb TV below:



Watch the latest episode of The Lowdown below:




You can also watch the latest episode of People & Places here:





AE/SEA