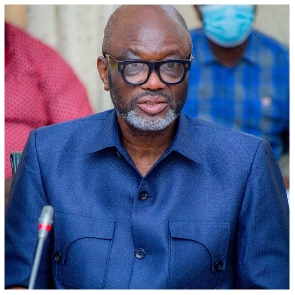 The Ghana Union of Traders (GUTA) has lamented that the current harsh business conditions in Ghana have negatively impacted the import and export community.
According to GUTA's Public Relations Officer, Joseph Paddy, activities at Ghana's harbour have slowed because businesses are unable to import and export.

He also claimed that the approval of the three new taxes would exacerbate the plight of importers and exporters.

He warned that this could deprive the government of much-needed revenue.

"When you go to the harbour, nobody is importing or exporting. You are aware the majority of revenue generated is from the harbour, but activities at the harbour have slowed, and it has affected revenue mobilisation. The new taxes could make things worse," he added.

Joseph Paddy slammed the MPs, labelling them selfish.
Speaking on Nyankonton Mu Nsem on Rainbow Radio 87.5Fm, he said MPs ignored the difficulties and poor living conditions of their constituents while passing new taxes.

"We had petitioned the committee and the Speaker to reject the amended bills. We contended that the country's current economic situation did not lend itself to the imposition of new taxes. Traders are having trouble obtaining loans. The policy rate has now reached 29%.

"We pay an interest rate of 40% on loans. This is not good for business. Our cumulative tax rate at the harbour is around 51%. If you import goods worth $10,000, you must pay a $5,000 duty. These things are wreaking havoc on businesses. So it was not prudent or wise for them to impose these new taxes," he stated.

"What we have discovered is that parliamentarians are working in their own interests rather than the interests of Ghanaians. The GUTA was not the only organisation to petition the House.

"The Chamber of Commerce, the Manufacturers Association, and AGI all spoke out against the new taxes, but parliamentarians supported them. We are dissatisfied. The various trade unions would hold a press conference and express our concerns to the government."