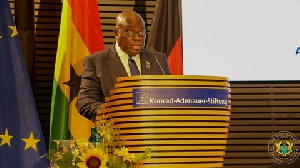 President Nana Addo Dankwa Akufo-Addo has expressed his government's readiness to implement the Representation of the People's Amendment Law (ROPAL).
According to Mr Akufo-Addo, part of the New Patriotic Party's pledge during the 2016 campaign was to ensure the full participation of Ghanaians living in the diaspora in the country's political and economic activities.

Speaking at this year's diaspora homecoming summit on the theme: "Development, Opportunity and Value" in Accra on Wednesday 5 July, the President reaffirmed his commitment to the diasporas of their inclusiveness in building Ghana.

"Twelve years after its passage into law, I believe the time to implement ROPAL is now," Nana Akufo-Addo said.
"[Most] countries in West Africa have their citizens abroad voting. I do not see why Ghana cannot do the same. There is widespread consensus amongst Ghanaians both home and abroad for the implementation of this law. Already, a group has sued the Electoral Commission (EC) over the non-implementation of the law. We await the outcome of that suit. Notwithstanding the suit, I wish to assure that my government will continue to engage with the Electoral Commission and its Chairperson, Madam Charlotte Osei, to ensure that whatever is needed to bring the law into effect is done," the president said.

Nana Akufo-Addo also mentioned that his government has begun the process of reviewing the law on dual nationality.

He said: "The same process of engagement is being undertaken to review the dual citizenship law and its effect. The process should conclude soon."