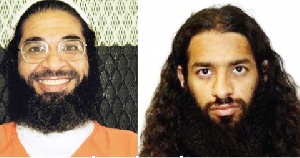 Private legal practitioner and Vice-President of IMANI Ghana, Kofi Bentil, has asked government to update Ghanaians on the stay of the two ex-inmates of Guantanamo Bay prison in Ghana because their stay in the country has elapsed.
In August last year, parliament ratified an agreement to allow Mahmud Umar Muhammad Bin Atef and Khalid Muhammad Salih Al-Dhuby, to stay in Ghana, following a Supreme Court order. The Court had earlier ruled that their stay in Ghana was unconstitutional without parliamentary backing.

In January 2016, the John Mahama-led government accepted the transfer of the two Yemeni ex-detainees from the US into the country for a period of two years.

The decision to host them created a controversy and public outcry among Ghanaians, with many expressing fear that the move would undermine Ghana's internal security and expose the country to attacks from religious extremists.
Mr Bentil, in a Facebook post on Sunday, 7 January 2018, said the period for their stay is over, therefore, government must update Ghanaians.

"Time to return the Gitmo 2. Their time is up. Please update us before we use the courts," the post read.