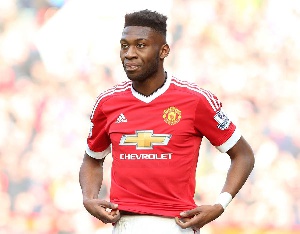 Manchester United defender, Timothy Fosu-Mensah, has reaffirmed his strong connection to Ghana, as he could feature for the Black Stars in the near future.
The 25-year-old who has played for youth side for the Dutch is eligible to play for Black Stars per FIFA rules.

The FIFA rules state that a player can switch nationality to play for another country he has ties to as long as he has not played for the senior national team of a country he has represented at the junior level.

Get All The Latest Politics Here - GhanaCrusader Political News

"I am just focused on developing my game and to become a better player so I can help my team," Fosu-Mensah told KweséESPN.

"Both my parents are from Ghana. My brothers are from Ghana.
"And where I am from in Amsterdam, a lot of Ghanaians are there so the connection is really strong. So my connection very good."

Mensah is preparing ahead of the start of the new season with Manchester United and believes the Red Devils now have a strong enough squad to win the Premier League title.

United have not won the title since Sir Alex Ferguson's departure in 2013, and have twice finished outside the top four, but the 19-year-old Dutch Under 21 international in confident that is about to change.

"Definitely we are good enough to compete for the title this season. We have a very strong squad," he said.