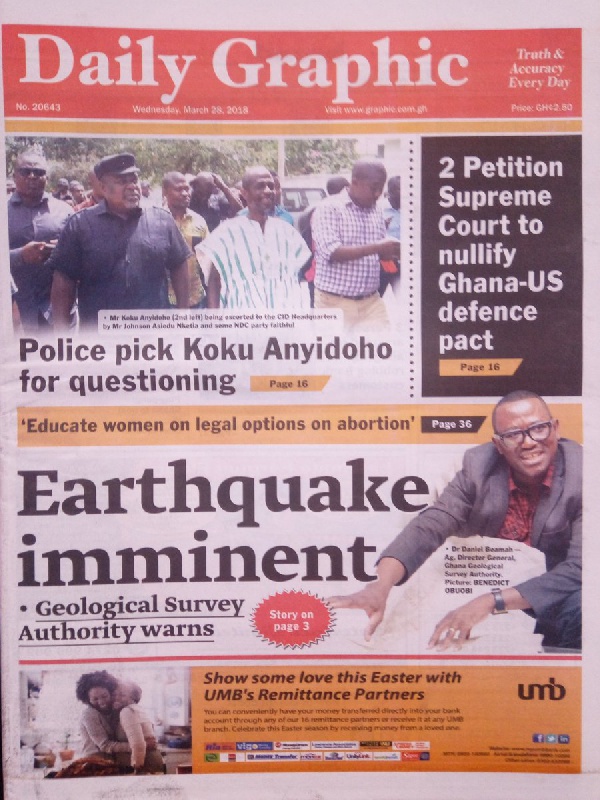 Stories making headlines on the front pages in the major newspapers include:
Daily Graphic:

- Police pick Koku Anyidoho for questioning

- Earthquake imminent.. Geological Survey Authority warns

- 'Educate women on legal options on abortion'

- 2 petition Supreme Court to nullify Ghana-US defence pact

Daily Guide:

- Anyidoho grabbed over 'Coup plot'

- British Pastor driver to be hanged

- Chieftaincy crisis looms at Kwahu

The Chronicle:
- Koku in the cooler after treasonable coup prediction

- Obuasi sits on 7M oz of gold - Aubynn

- Ghana card takes off April

The New Crusading Guide:

- NPP Trumpets: We'll meet any insurgency squarely!

- Making ugly noises: Koku Anyidoho meets 'his meter' as CID bundles him into the cooler over coup comments

- GJA rewards NIB Boss

The Publisher:

- NDC Demo hits Nana Addo over US-Ghana military pact

- Police arrest Koku , invade residence over coup plot
- I will pull gun on bonking teachers..Napo threatens -Anyidoho's coup comment reckless - NPP

Daily Statesman:

- NDC disowns Anyidoho over coup d'etat outburst

- Be active partners in nation building - Second Lady urges youth

- Government equips NIA for National ID Card registration

Ghanaian Times:

- Koku Anyidoho lands in hot water as CID interrogates him over coup threat

- 10,000 police officers to be deployed for Easter celebration

- Condemn treasonable comments by Koku Anyidoho - Govt, NPP to NDC

The Independent:
- Government equips NIA for National ID Card registration

- Local banks becoming 'more resilient' now - BoG governor

The Herald:

- NPP political harassment is back - Opuni, Agongo on trial, Koku Anyidoho arrested over free speech

- Bawumia's errand boy feeds on Opuni case

- Companies run away from ECG takeover

Goldstreet Business:

- Oil exploration in Keta Basin faces legal hurdles

- 18% policy rate still not ideal for borrowers - BoG

Today:
- Anyidoho arrested! Over civil comment

- Police ready for US military deal demo

- 'I'll shoot you if...' Police ready for US military deal demo

The Inquisitor:

- Towards concession transition, MIDA swerves ECG

- Stop Press!.. Forestry Commission to cancel reclamation contracts

- No more PTA dues...Dr. Prempeh directs SHS heads
Send your news stories to and features to . Chat with us via WhatsApp on +233 55 2699 625.