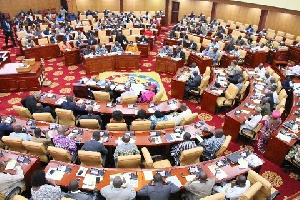 The Association of Ghana Industries (AGI) in 2014 appealed to Parliament to pass a law that will limit government from excessive borrowing from foreign nationals.
According to the Association, this legislation will also prevent overspending by government which mostly has dire consequences on the economy.

Read the story orginally published in 2014 by GNA below

The Association of Ghana Industries (AGI) is calling on Parliament to initiate steps to pass a law to check government's excessive domestic borrowing.

The Association said the law limiting domestic borrowing would reduce huge government deficit and enhance private sector's access to the needed capital and credit from domestic market at low interest rate.

Contributing to Canadian Chamber of Commerce, Ghana (CCCG), Power Breakfast meeting on Tuesday, Mr Kwasi Ayim Darke, Greater Accra regional Chairman of the AGI, called for immediate action to compel government to be financially disciplined to help businesses to grow.
Ghana's domestic debt grew by 30 per cent between 2011 and 2012 constituting 53 per cent of the total public debt as compared to 47 per cent for external debt. The domestic debt stock stood at $ 12,569.83 million at the end of August 2013.

Mr Darke said government overspending, culminating in high prime reserves of banks, has wider negative impact on the growth and expansion of local businesses to create employment opportunities. He said current government borrowing currently attracts 20 to 25 per cent interest rate and this does not augur well for the private sector, which is compelled to borrow at more than 30 per cent interest rate.

The proposed legislation if pushed for Parliament to pass would help streamline government domestic borrowing and regulate external influences on businesses, he said. The CCCG Power Breakfast meeting provided a platform for members and business community to engage in a discourse on the theme: "The changing business environment in Ghana."

Mr Herbert Morrision, President of the Canadian Chamber said the on-going decline in the value of the cedi coupled with significant drop in government revenue has created "fear and panic" among the business community. He said the challenges are posing serious problems to every business in Ghana, particularly; access to credit and that ought to be addressed.

Mr Morrison observed that Small and Medium Enterprises (SME) play crucial role in national economic development and should not be allowed to fail simply because they cannot access credit. He observed that increasing access to finance for SME businesses is a sound strategy for financial institutions if they are to establish a foothold in the SME space.