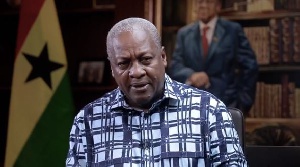 Former President John Mahama has said 21 September will continue to be celebrated in honour of, in his view, Ghana's founder, Dr Kwame Nkrumah, as Founder's Day.
In a short Facebook message to mark the day, Mr Mahama posted: "Today remains our country's Founder's Day – a special day to reflect on the life and works of Osagyefo Dr Kwame Nkrumah".

"His contribution to pan-Africanism is beyond Africa.

"His vision for Ghana is profound.

"On this day, let us recall his vision and commit to the total and integrated development of Ghana and Africa", the former president who has staged a comeback wrote.
There has always been a debate in Ghana about whether the day, instituted by late President John Evans Atta Mills, should be Founder's Day or Founders' Day.

Those who opt for Founder's Day regard Nkrumah as the sole figure deserving of such accolade, while those who prefer Founders' Day argue that Nkrumah, alone, did not found Ghana.