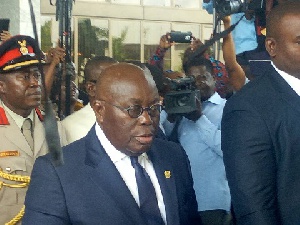 The political negotiations between Togo's ruling Gnassingbe regime and the opposition will continue in Ghana in the coming days, an opposition spokesperson, Jean Kissi said on Monday.
The negotiations opened in the Togolese capital Lomé last week aimed at ending a crippling political stalemate which has seen thousands take to the streets across the country on an almost weekly basis since August 2017.

According to Jean Kissi, there has been a deadlock since the opening of the dialogue last week and the opposition is demanding the participation of its leader Tikpi Atchadam to continue the negotiation.

Tikpi Atchadam who has initiated the demonstrations in August has fled for his life and is currently living in Ghana. In order to let him participate in the controversial constitutional reform talks, the opposition has suggested to President Akuffo Addo to move the talks to Ghana.

An earlier demand to let Tikpi Atchadm participate in the dialogue in Togo has been rejected by the Chief of Togo Armed Forces, General Félix Abalo Kadanga. The late accuses Tikpi Atchadam of killing security forces during the August protest.

Note that Ghana's President Nana Akufo-Addo and his Guinean counterpart Alpha Conde are acting as mediators in the talks.

The opposition coalition has demanded "measures for de-escalation," including the release of detained prisoners and the withdrawal of security forces from opposition strongholds.
Togo's President Faure Gnassingbe "has decided to give a presidential pardon to 45 of the 92 people detained … following their participation in protests,"



Ghanaian delegation spokesman Daniel Osei said last week about 43 prisoners have been released so far.

The opposition wants the reintroduction of a two-term limit on presidents, applied retroactively, to prevent the current head of state seeking re-election in 2020 and 2025.

Gnassingbe, whose family has been in power in Togo for 50 years, took over from his father, General Gnassingbe Eyadema, on his death in 2005.