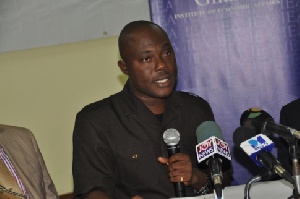 Senior Lecturer at the Department of Political Science at the University of Ghana, Dr Ransford Gyampo is calling for tolerance and accommodation amongst all political parties as the country goes to the polls in November.
Dr. Gyampo said the country's politics ought to be characterized not by mere tolerance but also accommodation between different parties.

"Mere tolerance can be coupled with indifference and even hostitlity; accommodation requires interaction, peaceful interaction and communication between two different parties or within the same party"

He was delivering his keynote address at the launch of the University of Ghana Political Science Students Association (POSSA) week celebration on the theme Political Tolerance: An Ideal Recipe for Democratic Consolidation in Ghana.

Dr. Gyampo explained that political characters don't need to be friends and families before they agree on issues; he admonished them to be very tolerant and accommodative enough to ensure development in the country.
"We need not to be friends, we must however be able to communicate and do business together peacefully to achieve fruitful results."

Dr Gyampo also called on the governing party and opposition parties to build bridges of mutual respect and understanding to promote co-operation and consensus on issues of national interest.

"Let there be candid, genuineness and no hypocrisy in intra and inter party dialogue, the practice of sounding combative on partisan rallies and showing tolerance and accommodation only behind the scenes is not good enough; in my view it is a disingenuous practice of political hypocrisy and deception that must be eschewed," he opined.