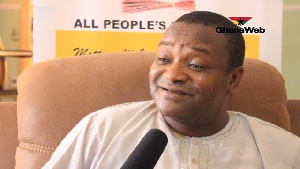 The founder of the All People's Congress (APC) Dr Hassan Ayariga has stated that it is too early for Ghanaians to judge the President Nana Addo Dankwa Akufo-Addo's performance barely three months into office.
He suggested that Ghanaians allow the President time to lead the nation adding that the President proved his opponents wrong to climb the presidency after they had doubted his capabilities.

Speaking on Abusua FM's Abusua Nkommo hosted by Kwame Adinkra, an adverse critic of the then flagbearer of New Patriotic Party (NPP) indicated that it is wrong for a section of Ghanaians to be quick in judging the president a few months in office.

He opined that the government be given time to execute his promised policies.

He described the NPP as business-oriented people who can change the fortunes of the economy if they put their heads together.
'We all said they were not going to be in government, now they are in government, I particularly said Nana Addo cannot be president, now he is president. It means Ghanaians have taken their own decisions, let's give them the benefit of the doubt, give them some time and see what they can do. Lets us not rush them, when a government is in power, give them the opportunity, I believe that other political leaders should allow them some few months, they have made lots of good promises, if they are able to fulfil the promises, good for Ghanaians no doubt about that, even a blind man will be happy,' he said.

He called on the government to seek ideas from his political opponents to build the country and desist from being partisan by consulting only his friends and cronies.

The president was sworn into office on January 7, 2017.