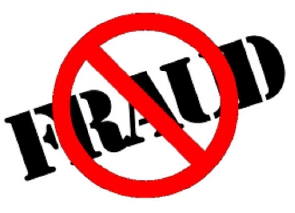 One of the most common form of crimes in Ghana is fraud, with unsuspecting individuals and organizations losing millions of cedis to scammers.
The Ghana Police Service and other security agencies are working to control crime but reports have revealed that fraud and scams cost Ghanaians more billions of dollars annually.

GhanaWeb has chronicled top frauds that hit the nation in 2019.

Scandal Rocks GRA; Board Chair Grabs GH?1.4m

The Ghana Revenue Authority (GRA) was entangled in a conflict of interest scandal involving its board chairperson.

The GRA acting Board Chairperson, Adelaide Ahwireng, got tied in a conflict of interest situation involving the rental of two of her commercial properties to the GRA.

It was alleged that the two buildings were rented out at an annual charge of GH? 1.4 million, an amount sources say was exorbitant, particularly considering the location of the properties.
The buildings in question included a three-story duplex and a two-storey sandcrete block property located in the Agbogbloshie South Industrial Area.

EOCO targets MASLOC The Economic and Organised Crimes Office (EOCO) got on the heels of former heads of some state institutions over massive rots leading to financial loss to the state.

EOCO's probe started following a forensic audit into the financial transactions of these institutions under the previous John Mahama administration.

According to the audit conducted by private auditors and presented to President Akufo-Addo and his cabinet, the former CEO of MASCLOC Mrs. Sedina Tamakloe Attionu allegedly misappropriated GhC3,193,592 (US$641,928.51) during her tenure.

Free Zones CEO busted for misappropriation Also, whopping amounts of GhC3, 919,622 and US$1,622,821 hanged on the head of the former CEO of the FreeZones Board Mr. Kwadwo Twum Boafo as misappropriated cash after the special audit report sanctioned by Cabinet.

Manasseh Exposé: PPA Boss caught pants down selling govt contracts Investigative journalist, Manasseh Azure Awuni, revealed in his latest documentary how some NPP appointees connived to sell government contracts.
In his exposé, titled Contracts For Sale, the CEO of Public Procurement Authority (PPA), A.B. Adjei, was busted.

The investigations showed how a new company, Talent Discovery Limited (TDL), incorporated in June 2017 by the CEO of PPA won majority of government contracts through restrictive tendering.

Mr. Adjei's company, after winning the government contracts, then proceeded to sell the contracts to other companies.

NAM1 charged with 4 counts of fraud

The Chief Executive Officer (CEO) of Menzgold Ghana Limited, Nana Appiah Mensah, aka NAM1, was charged with two counts of abetment to defraud by false pretence and two counts of abetment to carry out banking business without licence, contrary to Section 6 (1) of the Banks and Specialised Deposit-taking Institutions Act, 2016 (Act 930).