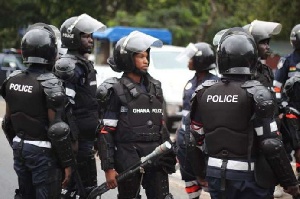 A retired Police commander has questioned government's directive to the Ghana Police to interdict some 21 police personnel involved in the killing of seven persons branded by the police as armed robbers.
The police alleged at the time that the seven were part of a robbery gang that killed a police officer at Ayirebikrom near Manso-Nkwanta in the Ashanti Region.

But the killing of the seven persons on July 17, 2018 triggered violent protest by residents of Asawase in Kumasi who rejected claims that their colleagues were armed robbers.

Relatives of the deceased rejected the police's position, insisting they were not thieves.

Government consequently set up a five-member Committee chaired by a high court judge, Justice Obeng Diawuo to investigate the matter to establish exactly what led to the killing of the seven persons.

Report of the committee released by the government on Monday concluded the seven persons killed by the police were not armed robbers.
"According to the report, there were no facts before the committee to establish that the deceased persons were armed robbers who engaged in exchange of fire with the Police," government said and directed the police to interdict the 21 personnel involved for a service enquiry to be conducted.

But the retired police commander, DCOP Douglas Akrofi Asiedu does not understand why the 21 policemen he described as "subordinates" should be interdicted when they did not act on their own instructions.

"I don't know why all the 21 people are all being interdicted," he told host of 3FM's morning show, Winston Amoah on Tuesday while commenting on the incident.

He said expected the commander who issued the order for the killing of the seven persons to have rather been interdicted.

In his view, since those subordinate officers took instructions from the command, hence the officer responsible has "a lot of questions to answer"
"The most important thing is, who gave the order? The officer responsible for the men at that time should be questioned more because the men who were on duty took instructions from him so I don't know why the 21 officers are being interdicted" he explained.

On the issue of why no police officer was made a part of the committee that investigated the incident, he argued, adding an officer would not have changed anything, saying "the facts would have been the same"

Meanwhile, DCOP Akrofi said he disagreed with calls for the resignation of the Ashanti Regional Police Commander but said he should at best be transferred ahead of the service enquiry.

He said the "IGP will take care of that because at this instance it is not safe to remain there. He may be transferred"