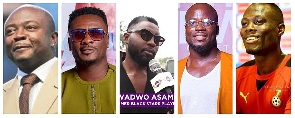 Making one's way to getting signed by international football clubs is a sign that such a player has what it takes to compete with players from other clubs.
Despite the incredible competition in the industry, these guys have stood out among others. Besides their skills, they have also maintained a healthy diet and exercise, and also created a profile that scouts and potential employers fell in love with, which eventually granted them the opportunity of playing in their respective clubs.

Most Ghanaian football players started their football careers locally and worked their way to the international scene. These guys have proven their skills and have become the choice player of many football fans.

The Italian Serie A has over the years been a suitable hub for Ghanaian players who prefer to build their career on Italian soil before moving to other top European countries, American or probably Asia.

GhanaWeb profiled 10 Ghanaian players who played in the Italian Serie A

1. Kwadwo Asamoah

Kwadw Asamoah played for the youth side of Torino in 2008 before he joined Udinese the same year and left 2012 after 114 appearances and scored 8 goals. Between 2012 to 2018, he played for Juventus and left to join Inter Milan until 2020. In 2021, he joined Cagliari where he played only 9 games. In total he played 279 games and scored 12 goals.

He is the most decorated Ghanaian player in the Seria A.
2. Sulley Muntari

Sulley Muntari joined the youth system of Udinese in 2001 from Liberty Professionals and after a year, joined the senior team in 2007 where he played for five years before leaving to join Portsmouth in the English Premiership in 2008.

Muntari returned and this time with AC Milan in 2012 and left a year after to join rivals Inter Milan in 2012 where he lasted until 2015. He played for lower-tier side Pescara in 2017. During his stay in Italy, Muntari won the UEFA Champions League, FIFA Club World Cup, Coppa Italia, Serie A and the Suppercoppa Italiana.

3. Kelvin Price Boateng

Kelvin Prince Boateng first joined Genoa in 2010 but did not make any appearance for the side and later signed for AC Milan in 2010 where he played until 2013. He returned for his second stint in 2016 before leaving for Sassuolo in 2018 and after a year joined Fiorentina.

In 2020, he signed for Monza and played until the 2020/21 season. He played over 100 games in the Serie A and scored over 20 goals.

4. Stephen Appiah
Stephen Appiah was an icon in the Italian Serie A when he first joined Udinese from Accra Hearts of Oak and after three seasons, he left for Parma where he became an integral part of the team. Due to little playing time, he secured a loan move to Brescia where he played alongside now Manchester City coach Pep Guardiola.

Fast-forward in 2003, Appiah moved to Juventus where he won the hearts of the fans with his amazing goals. After eight years in Italy, Appiah left and returned to sign for Bologna in 2009 and later for Cesena in 2010. He made over 150 appearances in the league and scored 30 goals, winning the Coppa Italia, Serie A title and Suppercoppa Italiana.

5. Asamoah Gyan

Gyan first arrived in Italy from Liberty Professionals and signed for Udinese in 2003 before joining Modena in the Serie B on loan. Between 2003 and 2008, Gyan played a total of 82 games for Udinese and Modena and scored a total of 26 goals before leaving to join Stade Rennais in 2009.

6. Emmanuel Agyemang Badu

Agyeman Badu arrived in Italy in 2010 from Spanish side Recreativo Huelva and signed for Udinese where he spent 10 seasons with the side and left in 2010. He returned and signed for Chievo Verona on loan in 2019, making the deal permanent in 2020. Badu scored a total of 10 goals in over 170 appearances during his stay in the Italian Serie A.

7. Sammy Kufour
Sammy Kufour had already established himself as a top player in the German Bundesliga with Bayern Munich before moving to sign for AS Roma in 2005, where he played until 2018. Between 2006/07 he joined Livorno on loan. He played 30 Serie games with no goal.

8. Ahmed Barruso

Ahmed Barruso is the longest serving Ghanaian player in the Serie A. He spent his entire life playing in the lower and top flight of Italian football. He first joined Manfredonia in 2003 and went on to play for over 14 clubs, having spent over 20 years in Italian football. With over 120 caps with over 20 goals, Barruso last played for Terme Monticelli in the fifth-tier of Italian football.

1. Alfred Duncan

Having joined the youth side of Inter Milan in 2010 to 2012, Duncan joined the first team the same year and made over 3 appearances before moving to Livorno on loan. He went on to play for Sassoulo, Cagliari and presently plays for Fiorentina. Duncan has over 200 caps with a little over 10 goals as a defensive midfielder.

10. Abedi Pele

Most people have no idea the three-time African Footballer of the Year had a good stint in the Italian Serie A when he played for Livorno between 1994 and 1996 where he scored 11 goals in 49 appearances.
Ghana's leading digital news platform, GhanaWeb, in conjunction with the Korle-Bu Teaching Hospital, is embarking on an aggressive campaign which is geared towards ensuring that parliament passes comprehensive legislation to guide organ harvesting, organ donation, and organ transplantation in the country.

Click here to start the nomination process for the 2023 GhanaWeb Excellence Awards

Watch the latest episode of Sports Debate and Sports Check below



LSN/KPE