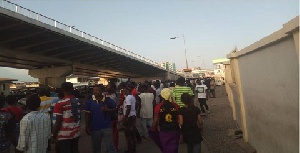 Tension is mounting at the Kwame Nkrumah Interchage as traders and hawkers rebel against AMA guards for allegedly beating a man believed to be 40years to death.
The man, also a trader, Kasapafmonline.com understands, had a telephone call from an unknown source and in the process of receiving the said call walked on the lawn, thereby, attracting the AMA guards and UCS workers who pounced on him and allegedly beat him to death.

The 40year old man, according to reports, resisted arrest by officials of the UCS tasked to manage the lawn and other facilities at the interchange.

The UCS is a company contracted by the AMA to manage the facilities at the circle interchange.

The action of the UCS and AMA guards, however, did not escape the eagle eyes of the traders who massed up and launched offensive attacks on them.

Several properties, this website is told, have been destroyed in the process.
Officials of the AMA claim the victim is not dead but receiving treatment at the Police Hospital.

But the traders hold a different view. According to them, they witnessed the death of their brother after members of the UCS struck him to death with a club.

It took the intervention of the Police to disperse the crowd after firing some warning shots.

Kasapafmonline.com checks have revealed that the victim is currently at the emergency ward of the 37 Military Hospital receiving treatment.