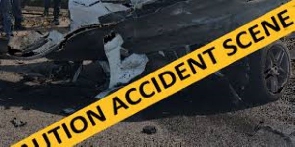 Six individuals lost their lives in a devastating road crash at Asanso near Asante Bekwai in the Ashanti Region on Sunday, November 19, 2023, citinewsroom.com reports.
The incident occurred when a truck collided with one of the five vehicles transporting mourners from Aputuogya to Manso Fahiakobo.

Five people tragically succumbed to the crash on the spot, while another victim passed away later at the hospital.

Several others who sustained injuries were promptly transported to the Bekwai Government Hospital and the Komfo Anokye Teaching Hospital (KATH) for medical attention.

According to eyewitness Nana Ampong, the collision unfolded at Asante Bekwai-Asanso Afidjase, resulting in the immediate loss of five lives—four adults and a child.
"This is a sad event that occurred at Asante Bekwai-Asanso Afidjase. One of the five vehicles conveying mourners from Aputuogya to Manso Fahiakobo collided with a truck carrying sand, leading to the death of five people—four adults and a child—on the spot.

"The sixth person died when we got to Asante-Bekwai Hospital. About seven of the people who were also involved in the crash were taken to the Komfo Anokye Teaching Hospital, and the rest at Asante Bekwai Hospital are receiving treatment," he said.

Ghana's leading digital news platform, GhanaWeb, in conjunction with the Korle-Bu Teaching Hospital, is embarking on an aggressive campaign which is geared towards ensuring that parliament passes comprehensive legislation to guide organ harvesting, organ donation, and organ transplantation in the country.

NAY/FNOQ