General News Wed, 9 May 2018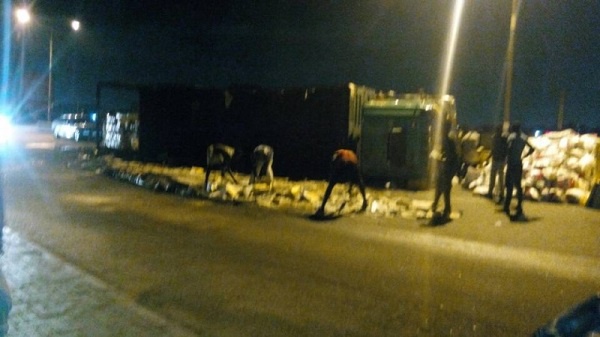 A driver of a trailer with registration number LND 666 heading to Togo from Kasoa in Ghana's Central Region, saved the lives of some accident victims in a saloon car heading to Dzorwulu from Lapaz.
The accident happened about 10:30 pm on the N1 Highway close to the Achimota Overpass when the saloon car with three occupants made a sharp turn into the lane of the loaded trailer.

Suspecting danger, the trailer driver slammed on his breaks and quickly veered the heavy-duty vehicle into the pavement, slightly scratching the saloon car, but had all the loaded goods toppling over as it fell on its side.

Occupants of the saloon car sped off the scene. The trailer and its spilt goods blocked the road, causing a gridlock.

The intervention of the Motor Transport and Traffic Directorate (MTTD) of the Ghana Police Service from Tesano, prevented theft of the goods as the driver and his mate parked the boxes of tiles and detergent.

Accra FM's Ama Brako Ampofo, who visited the scene, reported that there were no casualties. She said the road has been cleared for traffic.


The driver's mate explained in an interview that the saloon car would have been mangled and the occupants severely injured with possible deaths had the trailer not acted quickly.