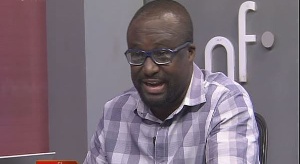 Chief Executive Officer (CEO) of the National Youth Authority, Emmanuel Sin-nyet Asigri, has given a chilly account of how Tramadol abuse in the West African Sub-region is linked to terrorism.
He indicates that reports received by the United Nations Office on Drugs and Crime indicate that members of terror groups are noted for abusing the drug which makes them fearless in the battlefields.

"Tramadol has been linked to terrorism of Boko Haram fighters and other terror groups operating in Sahel Region of West Africa. The United Nations Office on Drugs and Crime has said Tramadol pills have been found on Boko Haram fighters killed in combat and suicide bombers. Apparently, the tablet injects them with an unquenchable zeal to fight and estranged careless fear of death. This is how is wrecking our youth in Africa", he stated.

He has therefore observed that it is disheartening to witness the lives of the youth being wasted away as a result of tramadol abuse in the country, underscoring the need for urgent action.

He disclosed that he is personally saddened by the wanton abuse of tramadol in the country especially among the youth who represent its future, the need for concerted efforts by various stakeholders in dealing with the canker.

"It is not easy to see a young man whose life is being ravaged by the abuse of tramadol and walk away. It is not easy when you are the CEO of the National Youth Authority", he observed at the launch of a national campaign to end tramadol abuse among the youth under the theme "Safe spaces for youth' in the Brong Ahafo Region.
Recounting his personal encounter with a tramadol abuser, he said "I had the chance to meet these tramadol abusers and the memory it left me is what the National Youth Authority wants to leave with Ghanaians as we mark International Youth Day"

He bemoaned the fact the drug is targeted at young people who want to work hard singling out labourers and those struggling for survival but allow their lives to be wasted away by the drug.

Mr Emmanuel Sin-nyet Asigri cataloged the effects encountered by these abusers who are one way or the other a now trying to fight off years of addiction to the drug giving a shocking revelation of how it has been linked to Boko Haram fighters and other terror groups.

Tramadol abuse has become very common mostly among the youth especially teenagers with some taking it as an aphrodisiac to boost their sexual drive

Efforts have stepped up by the police and the Food and Drugs Authority (FDA) who jointly raid various medical shops to combat those smuggling the drug into the country illegally.
Law enforcement agencies have said Tramadol use in recent times is a contributory factor to increase in crime according to a study conducted.

According to the Pharmaceutical Society of Ghana, the drug is approved for the management of pain but the rapid increase in its use by the youth is worrying.

"The strengths approved for use in Ghana by the FDA are the 50mg and 100mg oral capsules," not 200mg/250mg as it has found to be circulating in markets in the country"