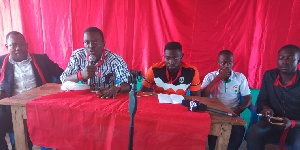 Residents of Ejura Sekyere Odumase Municipality in the Ashanti region are calling for the mass transfer of police personnel in the area.
According to them, some of the Police officers have stayed too long in the municipality and have therefore lost their zeal to fight criminals.

They are blaming the numerous robberies in the municipality on the inability of the police to confront the robbers head.

Frequent robbery attacks on patrons of Ejura food market has claimed several lives with several others sustaining life threatening bullet injuries.

The situation in Ejura has compelled patrons of the Ejura market to divert to Techiman and other recognized food markets, a situation they described as unfortunate and a threat to farming activities in the municipality.
Speaking to the media, spokesperson for the residents Abubakar Saddique said they have lost confidence in the ability of the police to protect them.

Reacting to the claim, the Ejura municipal Police commander Superintendent Anthony Appiah said his men are doing their best under very challenging circumstances.

"We have just two vehicles here and every day, they are at the workshop. Just imagine if every day we have to spend on this car at the workshop, how do you deliver efficiently with it. But half a loaf is better than none so we are trying our best.

"…But for us to be working under this circumstances and not being commended but reprimanded, I will not agree to that," he said.