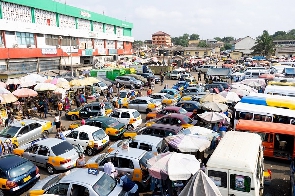 Tue, 24 Jan 2023 Source: GNA
A sensitization workshop on national, and regional transport and road use laws and regulations has been organized for transport operators in the Ashanti region.
The workshop, the final in a series, implemented under the project, "Support for Governance in Ghana's Transport Sector," is a collaboration between the European Union, the Ministry of Roads and Highways, the Ministry of Transport, partner agencies, and transport sector operators.

It aimed at bringing them to work closely together to reduce road transport costs and reinforce compliance with road regulations.

It was attended by officers from the Customs Division of the Ghana Revenue Authority, Motor Transport and Traffic Directorate, National Road Safety Authority, transport owners, truck drivers and associations, transit drivers and the Ghana Highway Authority

It was jointly launched in September 2022, by the Ministry of Roads and Highways and EU Ambassador to Ghana Mr Irchad Razaaly.

The programme also had presentations on regulations related to axle load, road traffic laws, and transit as well as road safety.
Participants engaged in discussions on rampant Police barriers along major transit corridors and the need for transit trade facilitation, inconsistent measures of axle weigh bridges along major highways, and processes for shedding extra cargo when axle limits exceeded.

Mrs Efua Effah, Chief Engineer, Policy and Planning Directorate at the Ministry of Roads and Highways, said the intervention of the project had helped Ghana to build capacity in the use of efficient tools to identify and prioritize key road infrastructure for maintenance investment.

"As Ghana commits to deepen its role in regional transit and integration, road transport will continue to play a major role, as such the Driver's Guide which aids in the safe and efficient use of the road corridors is an essential resource," she explained.

Mrs Effah said the project, with support from a consortium led by Stantec, an international professional services company, worked with the transport sector agencies and stakeholders to develop a five-year Road Maintenance Plan that identified roads in need of maintenance.

Additionally, the project had trained 150 Regional and District Engineers on project management, road design, construction supervision, and road maintenance adding that it envisioned the construction of a weighbridge station on the Tema Beach Road.
Source: GNA