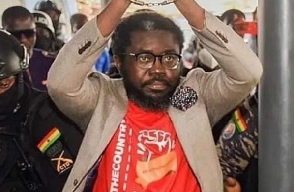 Lawyers of Oliver Barker-Vormawor led by Dr. Justice Srem-Sai have said they will contest the High Court's refusal to strike out the committal proceedings against their client.
The #FixtheCountry lead Convener was on August 1, last year, committed by the Ashaiman District Court to stand trial at the High Court for two counts of treason felony.

But, his lawyers upon appearing at the High Court questioned the validity of the offenses charged.

They argued that the nature of the offenses as charged is against the rules of duplicity and multiplicity.

They also contended that their client would not be able to prepare a proper defence in the manner the facts and particulars of the offenses were stated, a development they say would occasion a grave miscarriage of Justice.

In two separate applications, they argued that the indictment processes against their client were defective and the subsequent committals based on the said defective indictment is not grounded in law.

They, therefore, prayed the High Court to quash the committal conducted on August 1, last year based on the defects in the indictment and if the Attorney General's office is minded, they could conduct a fresh committal.
Though the Attorney General, through Hilda Craig, a Senior State Attorney opposed to the request, the court on October 11, last year granted one leg of the argument that the indictment was defective and ordered the AG to correct the defects.

The court presided over by Justice Mary Maame Ekue Yanzu however refused the request for the committal proceedings to be quashed for a fresh one conducted.

Lawyers of Oliver Barker-Vormawor after reviewing the full ruling of the court, said anytime a court finds duplicity or multiplicity, it quashes the entire proceedings even after conviction.

EIB Network's Legal Affairs Correspondent, Murtala Inusah, gathered that the lawyers of Oliver Barker-Vormawor will lodge an appeal against the ruling by Friday, January 5, 2023.

"Yes, (we) will appeal," one of the legal team members of Oliver Barker-Vormawor said after perusing the 19-paged ruling of the court delivered on October 11, last year.