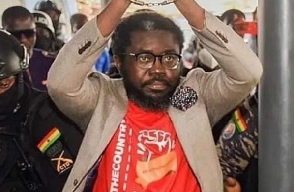 The High Court in Accra has reportedly denied a request by a lead convener of #FixTheCountry Movement, Oliver Barker-Vormawor, for his ongoing treason felony trial to be held daily.
In a Facebook post shared on Tuesday, July 18, 2023, by US-based Ghanaian lawyer and scholar, Professor Stephen Kwaku Asare (Kwaku Azar), indicated that the lawyers of Barker-Vormawor requested that their trial be heard daily but this was denied.

He indicated that the judge for the case adjured the trial to Thursday, October 12, 2023.

"Osagyefo denied trial on a daily basis as his "treason" trial postponed to October 12. Da Yie!" the post, Kwaku Azar shared, reads.

Oliver Barker-Vormawor, in an earlier post, indicated that his trial was adjourned because the Attorney General and Minister for Justice, Godfred Dame, was not prepared.

"The Attorney-General has again failed to file the necessary disclosures. Just the usual," parts of Barker-Vormawor's post read.
Oliver Barker-Vormawor was slapped with treason felony charges by the state after he was arrested in 2022 for the, "I would organise a coup myself" post he shared on social media.

Meanwhile, the lawyers for the Member of Parliament for Assin North, James Gyakye Quayson, have had their application for a stay of proceedings dismissed by an Accra High Court.

This was during the Tuesday, July 18, 2023, sitting in the criminal case brought against the MP by the state over his deceit of public officers.

The charges being levelled against the MP are forgery and perjury.

This is the second application for a stay of proceedings filed by lawyers of James Gyakye Quayson, following the first one that was also dismissed on Tuesday, July 11, 2023.
The lawyers were requesting the court rescinds its ruling for Quayson's case to be heard daily.

View the posts below:




Neho!

When The High Court released my Passport temporarily after a tedious round of three appearances and Arguments, the Attorney-General was insistent that if my passport was given to me I won't return to Ghana to face trial.

I flew in last night for my trial today.

The… pic.twitter.com/r8s7TSA6ai

— Osagyefo Oliver Barker-Vormawor (@barkervogues) July 18, 2023
BAI/OGB
You can also watch this episode of People & Places on GhanaWeb TV: