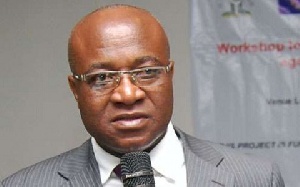 The Minister in charge of Parliamentary Affairs and Member of Parliament for Suame constituency, Hon. Osei Kyei Mensah-Bonsu has shot down claims that Kwesi Nyantakyi, the embattled President of the Ghana Football Association (GFA) should not be made to resign.
Speaking on Kumasi based Angel FM with Kwame Tanko (KT) in an interview monitored by MyNewsGH.com, Hon. Osei Kyei Mensah expressed his regrets about what Kwesi Nyantakyi is going through but indicated that going by the running commentaries if true, then the GFA capo misconducted himself as a public official and hence, must be dealt with accordingly.

Citing Chapter 24, article 284 of Ghana's constitution, he explained that, public officials per their code of conducts are expected to act in a way that their personal interest does not conflict with their office performance.

He added that a breach of the code of conducts warrants a punishment and this Nyantakyi saga is indifferent to that.

'Kwame, people will say the GFA is an independent body and not a public office but what is a public office?…a public office is one that takes subvention from the public purse. GFA does take subvention from the public purse so yeah it is a public office and hence, Kwesi Nyantakyi is a public official.
Also, I have heard that people are saying the claims against Nyantakyi is not related to football, Kwame, was President Clinton's affair with Monica Lewinsky related to presidency?… Wasn't he impeached because of that?… They should come again'.

Hon. Osei Kyei Mensah Bonsu charged Ghanaians to see the issue from its totality as regardless of his actions, a mere declaration of intent to commit an irregularity amounts to criminality.