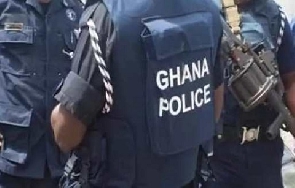 A trotro (commercial bus) driver is currently on the run after he injured a police officer in his attempt to avoid arrest at Mempeasem in East Legon.
The driver who is alleged to have committed a traffic offence around 10 am Friday, was chased by two police officers in a pick-up truck until they were able to stop him at Trinity Avenue.

According to an eyewitness, one of the officers stood in front of the trotro while the other went to the back of it but the driver who wasn't ready to give up tried to get away by reversing.

He ended up running over the officer standing behind the bus and still dragged him a few meters from the Trinity Theological Seminary entrance.
A report by graphic.com.gh says the trotro was chased by car salespersons who witnessed the events unfold until the driver parked near a bush and bolted with his mate (conductor).

The injured officer has since been taken to the hospital for medical care.