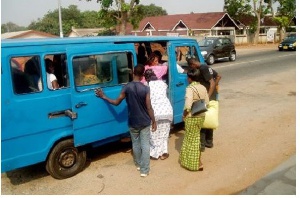 The Vice President Dr Mahamudu Bawumia has disclosed that in January 2020, passengers will be able to check which bus or commercial vehicle ( trotro) is properly insured or registered using their phones before they board them.
Speaking at a reception on Wednesday December 11, 2019 organised by the National Insurance Commission ( NIC), the Vice President explained that databases of the NIC and the Driver and Vehicle Licensing Authority( DVLA), will be integrated and synchronized so that individuals can check which vehicle has been registered or insured by keying in some details of the vehicle in question.

"…the database of the National Insurance Commission (NIC) and the Driver and Vehicle Licencing Authority (DVLA) will be integrated and go live in January 2020 to complete another plank of the Digitisation Agenda of the Nana Addo Dankwa Akufo-Addo administration," he stated on social media after the reception.
He added that beyond helping passengers to crosscheck which vehicles were operating legally, it would also help to plug loopholes that allow for revenue leakages by helping detect fake registration details, through which vehicle owners evade paying insurance revenues to the state.