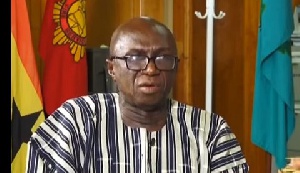 The Interior Minister, Ambrose Dery has said individuals associated to the ruling party cannot be described as true and dedicated members if they continue to engage in lawlessness.
He said, it was the promise of President Nana Addo Dankwa Akufo-Addo to maintain peace, stability and create a conducive atmosphere for businesses to thrive hence, anyone who works against this promise cannot be a member of the party.

He was reacting to recent rampaging by some vigilante groups associated to the ruling party in some parts of the country.
The Minister said, if anybody says that he is a member of the NPP, he must be interested in making it possible for the president to deliver on his promises.

And the president's promise is that, he must create a peaceful environment for investment and therefore you are not a true member of the NPP, if you are working against the president making good his promise, period! That is a statement specific to my party,'' he said.