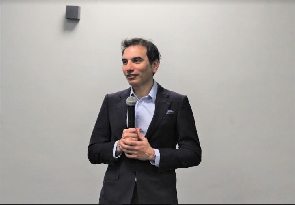 Tullow Ghana Limited held the first of its 2023 quarterly "Tullow Supplier Market Day" on 22nd February 2023 at the Fiesta Royale Hotel in Dzorwulu. The event was organised as part of efforts to maximise participation of local businesses in Tullow's supply chain system.
Opening the event, Managing Director for Tullow Ghana, Wissam Al-Monthiry said suppliers play a very important part in Tullow Ghana's business success. He said, "at Tullow, we view our suppliers as partners to the success of our business and our collective combined existence."

He further noted that it is Tullow's goal to help develop the supplier community in Ghana and ensure that as many suppliers as possible get contracts with Tullow and other companies in the oil and gas industry in Ghana.

To this end, Tullow will ensure that it maintains and enhances its relationship with the supplier community through innovative engagements such as the supplier market day. He assured participants that Tullow will continue to create the right channels for feedback in order to improve its support to the supplier community.

A total of 160 suppliers attended the event and witnessed in real-time, the contract awarding process as demonstrated by the Tullow role play. The supply chain team acted out various scenarios from a typical contract awarding process to give participants a good view of how contract evaluations and decisions are made. The role play covered all the stages of the contracting process including planning, sourcing, evaluation contract award recommendation.
One of the critical lessons emphasised by the Tullow Supply Chain team was that low prices do not guarantee winning a bid. In their role play, the winner of the bid was one who had a high price as compared to other bidders, but with the requisite capacity and disposition to deliver on the contract.




The quarterly Supplier Market Day aims at strengthening Tullow's relationship with the supplier community and boosting the participation of indigenous Ghanaian and Joint Venture suppliers in the procurement processes.