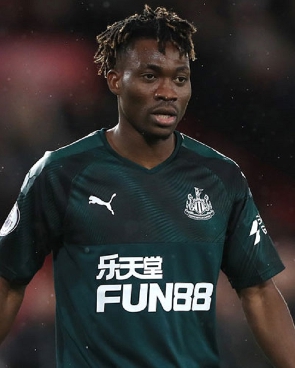 Turkish sports journalist, Yagız Sabuncuoglu has reported that Christian Atsu's club Hatalyspor are yet to provide an update on the player's recovery after he was rescued.
Sabuncuoglu, in his latest report on the situation, stated that there have been efforts from the press for an update but due to serious telephone problems in the epicenter of the earthquake, contacting officials has been difficult.

"Since yesterday, we have not been able to reach anyone from Hatayspor. There are serious problems with telephone operators in the earthquake area. Hatayspor board shared with the press the info that he was rescued yesterday and didn't make any updates after that," he tweeted.

Sabuncuoglu confirmed on Tuesday, February 7, 2023, that Christian Atsu has been pulled out of the remains of the building he was trapped in that got badly damaged.

The reports also confirmed that the Ghanaian, who was on the 9th floor, had breathing problems and injuries on his right leg.

Background

A powerful earthquake struck South-eastern Turkey, near the Syrian border, killing more than 5,000 people as they slept and trapping many others in the early hours of Monday.
The US Geological Survey said the 7.8 magnitude tremor struck at 04:17 local time (01:17 GMT) at a depth of 17.9km (11 miles) near the city of Gaziantep.

Hours later, a second quake, which had a magnitude of 7.5, hit the Elbistan district of Kahramanmaras province.

In September 2022, the 31-year-old Black Stars winger penned a one-year deal to join the Turkish side following a spell in Saudi Arabia.


INFO - ATSU

• Since yesterday, we have not been able to reach anyone from Hatayspor. There are serious problems with telephone operators in the earthquake area. Hatayspor board shared with the press the info that he was rescued yesterday and didn't make any updates after that.

— Yağız Sabuncuoğlu (@yagosabuncuoglu) February 8, 2023
EE/KPE