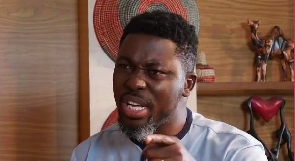 Political Activist Kwame Asare Obeng (A Plus) has advised the government to shut down the Ghana Broadcasting Corporation (GBC) and convert the premises of the state broadcaster into a zoo for tourist attraction.
A Plus believes turning GBC into a zoo will be more financially beneficial to Ghana than maintaining it as a state-owned media house.

"Is GTV a channel to watch?" A Plus wondered, adding: "The place should even be cleared and used for a zoo".

The political satirist told Nana Romeo on Accra100.5FM's Ayekoo Ayekoo mid-morning show on Wednesday, 4 December 2019 that he does not understand how the government would think of establishing a TV licence court championed by GBC, to prosecute and punish citizens who do not pay their TV licence while neglecting other important issues such as sanitation.
According to A Plus, GBC has been provided with all the equipment and logistics needed for effective operations yet is always indebted and not living up to expectation.

"Recently", he recalled, "I heard they are indebted to the tune of GHS25 million and I said they should even shut it down".