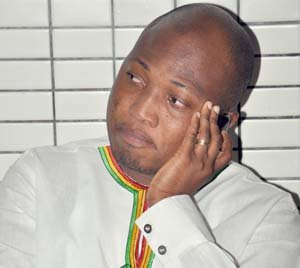 Mon, 19 Aug 2013 Source: Daily Guide
The Deputy Minister of Education, Samuel Okudzeto Ablakwa on Thursday temporarily preached the Word of God to a congregation at Brofoyedru near Kumasi.
Hon. Ablakwa, who is also the Member of Parliament (MP) for North Tongu, stated that the world presently cannot provide the comfort and joy that mankind seeks, adding, "People must put their trust and hope in the Lord.

He opined that frustration, economic hardship, unemployment and limited opportunities, especially for the youth, have become the order of the day, stressing that the numerous problems must encourage man to turn to God.

The deputy education minister stated categorically that any man that forsakes God and put his or her trust in worldly institutions would be disappointed, saying "the world has nothing to offer you."

Hon. Okudzeto Ablakwa was speaking at the 2013 Deeper Life National Campus Congress christened, 'Altitude 2013' held at the church's Ashanti Regional Camp venue at Brofoyedru near Kumasi.

He mesmerized the attendants with his insight into the Holy Bible, as he quoted several verses of the Holy Book to buttress his point.
Hon. Okudzeto Ablakwa, who at the early stages of his life, attended the Deeper Life Christian Ministry, said Christians need God's special grace to survive in this dynamic world.

Hon. Okudzeto Ablakwa stressed that God can provide opportunities for man to succeed in life.

He said that "if you rely on God the economic indices and the strength of the cedi would not bother you because you will be flying in different altitude."

Touching on the education sector, the deputy minister urged students to consider over 140 tertiary institutions, including private and public universities, teacher training colleges, polytechnics and nursing colleges in the country.

Hon. Okudzeto Ablakwa also implored students to make good use of the sandwich and distance learning modules being offered by the various tertiary institutions.
"If you don't get your first choice school don't let it end your dream."

The National Overseer, Deeper Christian Life Ministry (DCLM) Pastor John Borhan, said the theme of the congress, 'Reaching Your Utmost Height' was appropriate because God abhors mediocrity.

He therefore charged the youth of the country to abide by the principles of the Holy Bible, shun social vices and study hard so that they would become influential people in future.

Pastor Borhan explained that the congress was aimed at creating a common platform for the youth and intellectuals in the church to study God's Word.
Source: Daily Guide