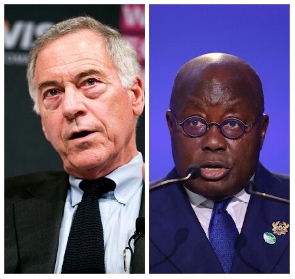 Professor of Applied Economics at the John Hopkins University in the United States, Steve Hanke has stated that the government of Ghana should be seeking alternative means of managing the country's current economic crisis instead of looking to the International Monetary Fund (IMF).
According to him, the government of President Nana Addo Dankwa should rather adopt the strategy used by Asian giant Singapore which includes cutting down on the size of government among other strategies to turn the fortunes of the country around.

"Under Pres. Akufo-Addo, economic freedom has deteriorated. As a result, GDP per capita growth has crashed. Ghana should turn to the Singapore Strategy (stable money, NO FOREIGN AID, protection of private property & a small efficient govt) instead of the IMF," Prof Hanke wrote in a Twitter post sighted by GhanaWeb.

Ghana has since 2020 suffered constant economic pressures including rising in inflation affecting the cost of living.

The government of Ghana in finding a solution to the problem is banking on a $3 billion loan from the International Monetary Fund.
Despite a promise to close the IMF deal by end of February, Ghana is yet to acquire approval from the Board of the Fund.


#GhanaWatch: Under Pres. Akufo-Addo, economic freedom has deteriorated. As a result, GDP per capita growth has crashed. Ghana should turn to the Singapore Strategy (stable money, NO FOREIGN AID, protection of private property & a small efficient govt) instead of the IMF. pic.twitter.com/VKkVA2Ixgd

— Steve Hanke (@steve_hanke) April 7, 2023
GA/BB