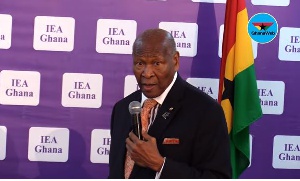 A private legal practitioner, Sam Okudzeto, has hit out at former president John Mahama over his comments in the wake of the Ayawaso West Wuogon by-election violence.
Speaking on Joy FM's Super Morning Show, the Council of State member described Mahama's utterances as "irresponsible".

According to him, for someone who has been a president before, Mahama's utterances should have been more decorous.

"Unfortunately that also is irresponsibility…what he is saying is an encouragement for others in the NDC to say they can also behave in the same way…but two wrongs do not make a right," Mr. Okudzeto said.

He intimated that if Mahama had any concerns over the by-election, he should have spoken personally to President Akufo-Addo. The veteran statesman's criticisms are related to Mahama's warning to the NPP that the NDC will match them "boot for boot" in 2020.

Speaking to some supporters in the Volta Region, the former president blasted the government over its handling of the Ayawaso West Wuogon by-election violence.
He said they will respond in equal measure if the government continues to intimidate NDC supporters like it did during the by-election.

"We respect the constitution of this country and the NDC is a democratic party and that's why we abide by the rules of the constitution. But the same constitution says that Ghanaians should resist anybody who attempts to subvert the constitution. When you go rampaging with forces and intimidating people when they should come out and vote you are subverting the constitution. And we have a right to resist you."

"I want to sound a caution that NDC has a revolutionary root and when it comes to unleashing violence no one can beat us to that. It is just that we midwifed this country's democracy and that is why we must be the first to respect it. That is why we are acting like a party that is docile and respecting the rule of law. But if we believe that the government cannot protect our people and we believe that the government is using its vigilante groups and illegal forces to intimidate and harass and injure our people, then we may have to advise ourselves," Mahama warned.

Last Thursday, January 31, 2019's by-election at Ayawaso West Wuogon was marred by a shooting incident which led to some persons sustaining injuries.

This was after some macho men in NSC-branded t-shirts allegedly attacked some voters at the Bawaleshie Presby school polling station.