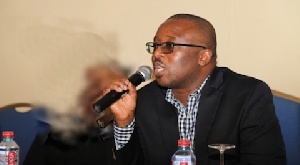 Chief Executive Officer of the Ghana Free Zones Board Kwadwo Twum-Boafo wants the US and UK representatives in Ghana to withdraw a statement they issued as regards the pockets of violence recorded over the weekend.
According to the member of the National Democratic Congress (NDC) communications team, the statements were uncalled for since the US Embassy and the UK High Commission did not wait for a police report before coming out with their warnings.

"They didn't wait for a police report before speaking."

Speaking on TV3's New Day on Tuesday, November 15, Mr Twum-Boafo wondered how the Americans will have the guts to issue a statement when nothing of that sort was done during "all the violence the whole world saw in the American elections".

"With people getting killed, policemen getting shot and killed in the preamble to the American elections, who issued a statement?" he queried. The foreign offices of the UK and US on Monday issued several statements to condemn the weekend's violence, calling on the major political actors to call their supporters to order. The UK High Commission warned of taking "action against anyone engaging in or inciting political violence, including considering refusing or revoking visas".

But Mr Twum-Boafo did not have kind words for UK High Commissioner, referring to him as a quasi-member of pressure group #OccupyGhana.
"The British High Commissioner in this country has been going to #OccupyGhana meetings [and] showing up at their events."

He cited how Jon Benjamin had addressed the pressure group at Christ The King in Accra once, which even triggered a response from the Minister of Communications, he added.

The maverick politician said the two world super powers should leave Ghanaians alone.

"Let us as a nation not put ourselves in a position to be dictated to. We are a sovereign nation."