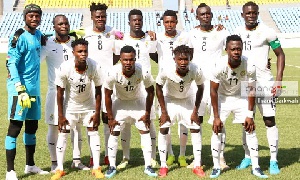 Ghana Black Satellites deputy coach Amadu Nurudeen says the aim of his team is to make it to the World Cup in Poland.
The Satellites won their first game of the ongoing Under 20 AFCON in Niger by defeating Burkina Faso 2-0 on Monday but the Ghanaians put up an abysmal performance on Wednesday and got battered 2-0 by Senegal making their chances of qualification to look difficult.

Ghana needs to defeat or draw against bogey side Mali on Saturday to qualify for the World Cup and though it is tough, Nurudden is confident they will make it.
" Every country wants to qualify for the 2nd phase of this tournament and our goal is to qualify for the World Cup. It is true that each team has three points but our wish is that Ghana will overcome this obstacle." Nurudeen stated in the Pre-match presser.

Mali defeated Burkina by 1-0 and are confident of riding over Ghana to make it to the Youth Mundial.