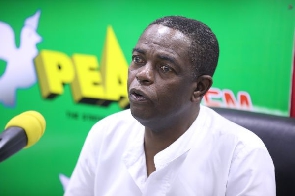 Managing Editor of the Insight Newspaper, Kwesi Pratt Jnr has asked the governing New Patriotic government to explain what went into the decision to reintroduce road tolls.
Government has proposed reintroduction of road tolls after it suspended it in 2021.

According to a memo from the Finance Ministry, steps have been initiated to "provide for foundational rates for tolling of roads and highways as part of the amendments of the Act, pending completion of the process to identify the roads and highways to be affected by the reintroduction of the road tolls as stated in the Budget"
Kwesi Pratt Jnr speaking in a panel discussion on Peace FM's morning show 'Kokrokoo' he wondered whether or not government will still charge E-Levy on all electronic transfers about the stipulated threshold.

"I was one of the people who opposed the suspension of the road tolls . . . we were told the road tolls were being suspended because of traffic and the implementation of the E-Levy. Does it mean the traffic situation won't be there again after the reintroduction? And what happens to the E-Levy? Our leaders should know that we are not fools . . . at least we have a little bit of wisdom. They should give us some credit. You can't speak to us as if we don't think or are not sensible," he said.