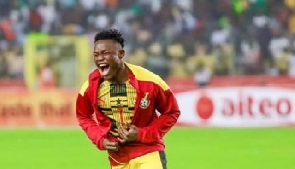 Sporting Lisbon forward Fatawu Issahaku scored a sensational goal as Ghana secured a 1-1 draw against Algeria at the 19 May 1956 Stadium in Annaba on Friday night.
The highly anticipated encounter was the first leg of the final qualification round to the CAF U23 Africa Cup of Nations and both sides were determined to put in a good showing.

The match got off to an intense start with both teams creating chances and attempting to gain the upper hand. However, it was difficult to separate them, and the first half ended goalless. The break gave both sides a chance to regroup and strategize for the second half.

As the second half resumed, it was clear that Ghana and Algeria were determined to fight for the win by scoring. The hosts were awarded a penalty kick in the 78th minute, but Ghana goalkeeper Danlad Ibrahim pulled off a fantastic save to keep the game level.

Ghana continued to press forward, and five minutes later, Abdul Fatawu Issahaku scored a sensational goal from the centre circle with a powerful strike that beat the Algeria goalkeeper. The goal sent the Ghanaian fans into a frenzy as they cheered on their team.
However, in injury time, the Black Meteors gave away a penalty kick, which was converted by the hosts to restore parity. Despite the disappointment of conceding a late goal, the Ghanaian team remained determined and focused, and the match eventually ended in a 1-1 draw.

The performance of the Black Meteors was commendable, and they displayed great resilience and skill throughout the match. The result leaves both teams with everything to play for in the reverse fixture, which promises to be another exciting encounter at the Baba Yara Stadium on Tuesday, March 28.


Ghana goal vs Algeria

Puskas winning goal Fatawu Issahaku ???????????? pic.twitter.com/iAxp5TVzK2

— Saddick Adams (@SaddickAdams) March 24, 2023