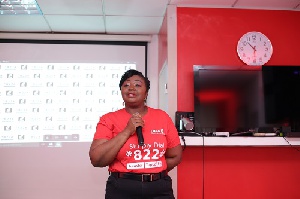 Management of United Bank for Africa (UBA) Ghana Limited, has launched a new Mobile Banking application (formerly known as U-Mobile) and Unstructured Supplementary Service Data (USSD) code *822#.
The launch is in line with the Bank's strategy to drive the experience of "banking without boundaries" to its customers through digital innovation.

Mrs Abiola Bawuah, UBA Regional Chief Executive Officer for West Africa, speaking at the launch said the two lifestyle products have been updated to bring, a whole new banking experience to customers of the Pan African Bank.

The new Mobile Banking App and USSD channels have been created with banking features that enable customers to operate a mini branch on their mobile devices, thus making banking more convenient, easy and accessible for all categories of customers.

She said "As a bank, co-creating with our customers remains part of our focus. Over the period, we have been informed by the taste and lifestyle of our customers and as such provided these two new solutions to enhance their banking relationship with us and give our customers greater value."

The Regional CEO said "We live in an age and time where people want a hustle-free way of banking, so we decided to introduce more features in our Mobile Banking App, which gives our customers greater value."
Mrs Bawuah said with *822#, UBA Ghana advances in an industry trend, which would extend banking services to the less technology savvy customers, and customers, who may not have the taste for internet banking, as well as the financially excluded persons.

Mr Kwame Aduansere, Head of IT said UBA's new Mobile Banking App, demonstrated the Bank's aim to provide unparalleled experience across all its channels it was in line with the bank's vision to dominate Africa's digital banking space.

"It comes with biometric log-in and facial recognition features for secure and personalised access and was now available for download on App Store and Google Play.

He said the launch of the products demonstrated the Bank's culture of service excellence strengthening the affinity with its existing customers, while reinforcing the UBA brand as one to be associated with by the entire banking pubic.

He said customers could register for the services to transfer money, buy airtime, check account balances, pay bills, transfer funds and conduct mobile money transfers amongst other functions with the new Mobile Banking App and USSD.