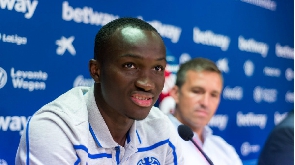 UD Levante president Quico Catalán has given update on Ghanaian striker Raphael Dwamena's health condition after it was detected he has a heart problem.
Dwamena has been sidelined indefinitely following the unspecified heart problem discovered while he was undergoing regular health tests at Real Zaragoza in October.

The 24-year-old has undergone further tests with specialists on heart problems to determine the exact defect that has resulted in the medical team of Zaragoza calling for the Ghanaian striker to stop playing football.

Dwamena joined Zaragoza on a season-long loan from LaLiga side UD Levante in the summer.
But due to the incident, the loan has been canceled and he has returned to the Frogs as they are awaiting the final test result to determine their next action.

"It is still in the air. We are aware of the situation and it will not be easy but until we reach the end of all medical tests and until we have the final opinion we will not venture to say anything," he said.

Dwamena scored 2 goals in 9 Spanish Segunda Division games for Zaragoza.