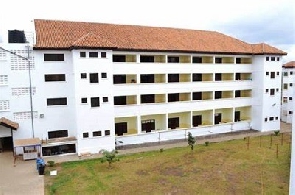 The Old Vandal Association says the new accommodation policy for continuing students of Mensah Sarbah and Commonwealth Halls is discriminatory insisting management is shifting its responsibilities.
Aggrieved students of the University of Ghana on Friday, February 3, 2023 embarked on a demonstration on the streets of Accra against the new accommodation policy and increase in fees.

They are demanding an immediate reversal of the new accommodation policy which prevents continuing students from residing in both the Mensah Sarbah and Commonwealth Halls.

The students also want the government to direct the university to rescind its decision to increase fees more than the 15 percent directed by Parliament.

Commenting on the development on Starr Today with Joshua Kodjo Mensah, a member of the Old Vandals Communication Team, Eugene Kweku Boadu said they will not allow the university authorities to truncate the education of the Ghanaian youth with the accommodation policy.

According to him, they believe that education represents the best medium through which the nation can galvanize the intellectual talent base of the country and direct it to development.
"The University has gone ahead to implement a policy that is discriminative against male continuing students with Mensah Sarbah Hall and Commonwealth Halls. They claim that there were some clashes and they have not been able to identify the people who were involved in the clash."

"Indeed some members of the University have spoken to the media and admitted that some of the persons so far identified were not even students. Now if you are undertaking an investigation and you have not concluded that investigation then what basis are you implementing a residential policy that you claim is punitive?" Mr. Boadu asked.

He continued: "These clashes that seem to happen from time to time in the University campus actually points to low level of security on the campus. So if management has failed to provide adequate security on the University campus and it leads to a situation that clashes come up every now, then you are now shifting responsibility and shifting attention from your incompetence and mismanagement and rather seek to punish students for it."

He added that the new accommodation policy is threatening to end the education for a number of continuing students in the Mensah Sarbah and Commonwealth Halls.

"They are moving students from the traditional halls which are very affordable and play a key role in the educational accessibility for people coming from humble backgrounds. It is cocoa farmers money, fishermen and farmers money that were used in building those traditional halls. These halls have for a long time provided financial support to students coming from poor backgrounds. You are seeking to remove all these people on very discriminatory and dubious grounds. And forcing them into hostels that are three or four times the price of the traditional halls."