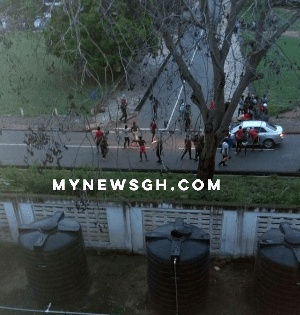 All hell broke loose when two University of Ghana student groups clashed on campus Friday evening, MyNewsGh.com can report.
One set was from the only male-dominated hall of the University, Commonwealth hall popularly known as 'Vandals' while the other group who were apparently attacked were from Mensah Sarbah Hall.

The clash reportedly happened when the boys from Mensah Sarbah Hall prevented the Vandals from using the frontage of their Hall for their semester Mfodwo procession, while the Vandals maintained that, that route is the only road they want to use.

The standoff led to violence as the two groups engaged in a free-for-all fight and stoning.

The vandals destroyed a saloon car belonging to the Tutor of Mensah Sarbah Hall, MyNewsGh.com confirmed.
This is not the first time the two groups have clashed as about three weeks ago, there were similar clashes with arrest made.