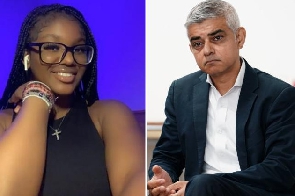 The British Prime Minister, Rishi Sunak and Sadiq Khan, Mayor of London, both commiserated with family and friends of a 15-year-old girl who was stabbed to death in a daylight attack in Croydon, a large town in South London.
According to reports, the victim and a friend were on their way to school on Wednesday (September 27, 2023) morning and had been approached by the friend's ex-lover with flowers when they disembarked from the bus.

Elianne, a pupil of Old Palace of John Whitgift School, was stabbed in the neck with a foot-long knife as she reportedly protected her friend from the attacker, a boy known to them.

The 17-year-old unamed attacker is currently in police custody.

On the Ghanaian parentage of the victim, the UK Guardian wrote: Elianne's father is a writer of Christian teachings, while her mother works as an NHS specialist nurse safeguarding children. Both are of Ghanaian heritage and are active in the Christian community.

Further checks by GhanaWeb identified her mother as Dorcas and her father as Michael.
The UK Mirror stated in their report: "Her mum Dorcas broke down in tears as she visited the scene this evening, supported by approximately 30 family members. Elianne's father Michael was also present."

PM Rishi Sunak

The Prime Minister Rishi Sunak in an interview with the BBC said he was shocked and appalled at Elianne's death and that sentences for knife-related crimes should be toughened.

"Everyone will be looking at that and be shocked as I am, appalled by what's happened and, quite frankly, angry. It just illustrates the importance of clamping down on knife crime," he said.

Mayor of London
The Mayor of London, Sadiq Khan, said on September 29: "I've met with youth workers and young people in Croydon following the devastating death of 15-year-old Elianne Andam.

"Everybody here is shocked, heartbroken and traumatised, and my heart goes out to Elianne's family, friends and all those affected in Croydon. I can only imagine, as a father of two daughters myself, what her family and friends are going through right now.

"I'm committed to driving down violence by being tough on violent crime and tough on its complex causes, and will continue working day and night to do everything in my power to end the scourge of knife crime in our city. 

"This means supporting the police in tackling violence and providing record funding to young Londoners for prevention and early intervention, through my Violence Reduction Unit, as part of an approach to build a safer city for all Londoners."

SARA
Ghana's leading digital news platform, GhanaWeb, in conjunction with the Korle-Bu Teaching Hospital, is embarking on an aggressive campaign which is geared towards ensuring that parliament passes comprehensive legislation to guide organ harvesting, organ donation, and organ transplantation in the country.

Watch the newest episode of The Lowdown on GhanaWeb TV below