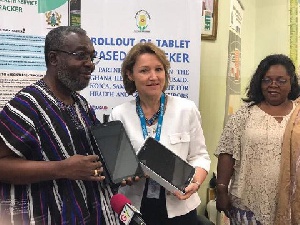 Madam Anne-Claire Dufay, the UNICEF Representative in Ghana, has handed over 230 tablet computers with accessories to the Ghana Health Service (GHS).
The over $75,000 worth of equipment, which was received by Dr Anthony Nsiah-Asare, Director-General, GHS, would support two Health System Strengthening activities in Ghana, regarding immunisation and community health information systems.

Madam Dufay in her remarks noted that the tablets, loaded with the Data for Action (D4A) software, developed by UNICEF, would be used to conduct a comprehensive nationwide inventory and provide real-time data on immunisation cold chain to the GHS.

She noted that the tablets in addition to collecting data would support health information systems, particularly at the community level.

Madam Dufay said upon completion of the cold chain inventory, the tablets would be deployed to support the implementation of an electronic client monitoring system of the Ghana Health Service, known as the e-tracker, to strengthen service delivery at the Community-Based Health Planning and Services (CHPS) centres.

Dr Nsiah-Asare expressed gratitude to the UNICEF for the kind gesture; adding that, UNICEF was doing quite a lot, especially in the very remote areas of the country.
He said the Service was doing its best to cut down infant and maternal mortality in order to achieve the universal health coverage target by 2030.

He said aside from the tablets being used for the Data Action Project, they would also be used to capture real-time data from all districts of the country.

He said their e-track project had covered four regions and that this particular package would go to the Upper West Region.

Dr Nsiah-Asare said there were six more regions to cover under e-track project, and appealed to other development partners to assist.

The GHS e-track project is an electronic application, which allows health service providers to register and track clients using mobile devices.
Ghana had made significant progress to protect children against diseases that could be prevented through vaccination. Immunisation is one of the strategic interventions that had contributed to the reduction of infant mortality throughout the world, including Ghana.

In 2015, Ghana was certified as Polio-free, a direct result of vaccinating children.

The UNICEF works in some of the world's toughest places, to reach the world's most disadvantaged children.

Across 190 countries and territories, the UNICEF works for every child, everywhere, to build a better world for everyone.