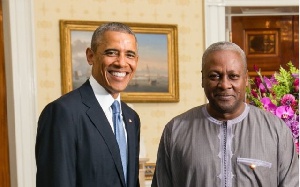 The United States government has reiterated its pledge to support trade and investment in the country.
The American government has over the years contributed to the development of Ghana's economy through trade agreements.

It would be recalled that in December last year, the U.S. Assistant Secretary of the Bureau, Linda Thomas Greenfield, revealed that the US government had reviewed the 15-year-old law that will allow Made-in-Ghana goods access to duty- free tariff in the United States.

According to her, the United States was ever ready to trade with Ghana and other African countries as sourcing and investment destinations for international buyers of apparel, textile, leather, and home décor.

The embassy in Accra on Saturday, June 25, 2016, reiterated the American government's commitment by indicating that the department of commerce had expanded operations in Ghana.
The embassy tweeted: "U.S. government is committed to promoting trade, investment in GH.Our Department of Commerce has expanded operations in Ghana."


"We are committed to Ghana's econ dev'ment. But driving force is you: the Ghanaian entrepreneur and business leader." #AmbRPJ #AciEntrprnr

— US Embassy Ghana (@USEmbassyGhana) June 25, 2016